A-10 cells are frequently employed in medical research laboratories for investigations of smooth muscle cells and the role they play in the onset of certain diseases and conditions. For instance, A-10 cells have found use in studies of hypertension because an increase in smooth muscle cell size and number has been suggested as a potential cause of high blood pressure.
Embryonic Rat Thoracic Aorta
Medial Layer Myoblast Cells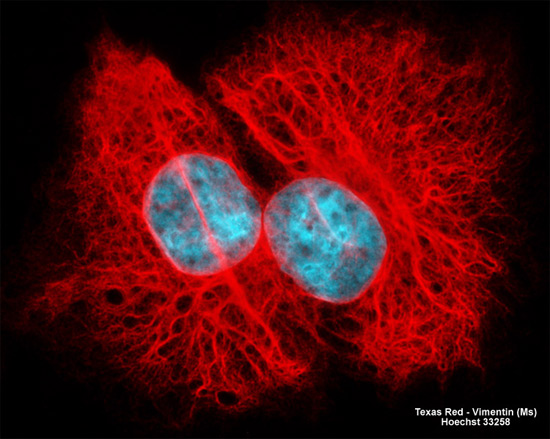 The log phase adherent culture of rat thoracic aorta cells (A-10 line) illustrated above was fixed and permeabilized with a cocktail of paraformaldehyde, Triton-X100, and glutaraldehyde before being blocked with 10-percent normal goat serum. Subsequent treatment with mouse anti-vimentin monoclonal primary antibodies was followed by goat anti-mouse secondary antibodies (IgG) conjugated to Texas Red, resulting in the visualization of the cellular network of intermediate filaments. Nuclear DNA was counterstained with Hoechst 33258. Images were recorded in grayscale with a Hamamatsu ORCA AG camera system coupled to a ZEISS Axio Imager microscope equipped with bandpass emission fluorescence filter optical blocks provided by Chroma and Semrock. During the processing stage, individual image channels were pseudocolored with RGB values corresponding to each of the fluorophore emission spectral profiles.